Der Inspekteur der Konz.-Lager und Führer der SS-Totenkopfverbände, Berlin, den 1.April 1937
Befehlsblatt SS-TV/IKL Nr. 3 März 1937
Verteiler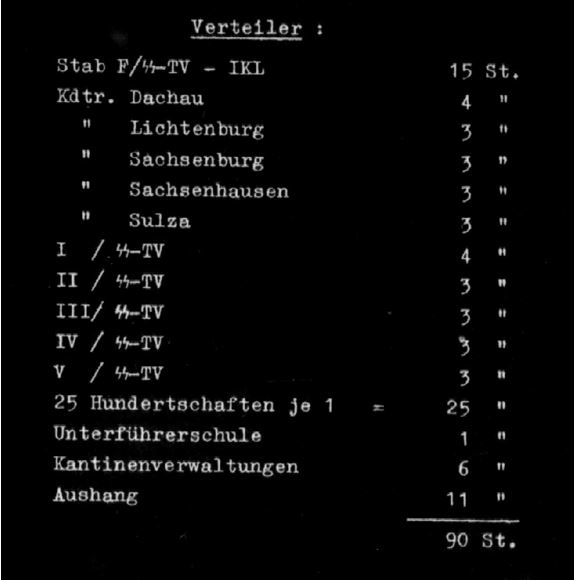 …
Nr. 15: Schulungsleiter der Hundertschaften:
Im Zuge der Neubesetzung der Dienststellen als Hundertschaftsschulungsleiter werden mit der Schulung einer Hundertschaft von mir beauftragt:
I./SS-TV "Oberbayern"
1. Hundertschaft
3. "
5. "
7. "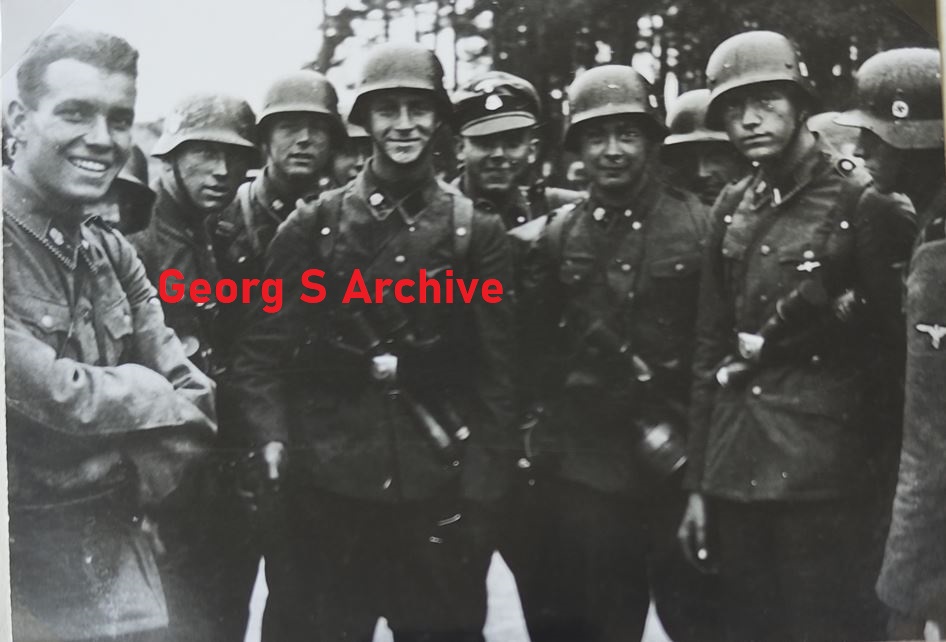 9. "
11. "
20. "
25. "
II./SS-TV "Elbe"
8. Hundertschaft
10. "
12. "
19. "
22. "
III./SS-TV "Sachsen"
13. Hundertschaft
15. "
17. "
23. "
IV./SS-TV "Ostfriesland"
2. Hundertschaft
4. "
6. "
21. "
V./SS-TV "Brandenburg"
14. Hundertschaft
16. "
18. "
24. "
(auf Namen jetzt verzichtet, geht nur um die Zusammenstellung der TV und die Hundertschaften)
…
Nr.19: Entlassungen:
SS-Untersturmführer Helmuth Poetsch, I./SS-TV "Oberbayern"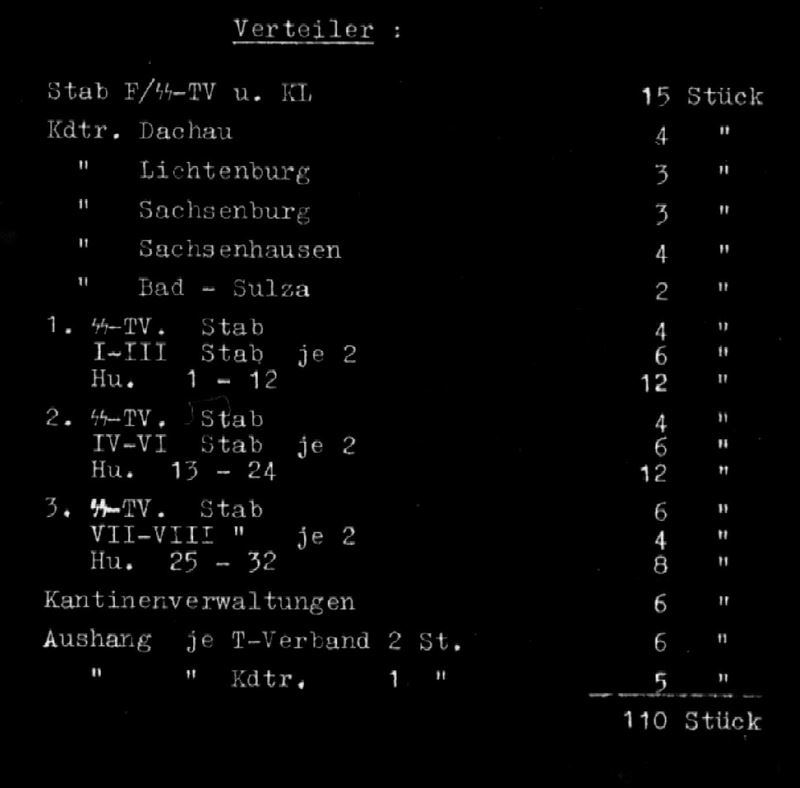 (T175 R40 Bild 0141 – 0152 ohne Zählwerk)
15.04.1937
In Dachau wurde eine "SS-Führerschule des Verwaltungsdienstes" eingerichtet, die Lehrgänge zur Vorbereitung auf den SS-Verwaltungsdienst durchführte.
(Kaienburg, Wirtschaft, S. 120, Anm. 12)
Das genaue Datum der Einrichtung der Schule in Dachau ist leider bisher (13.6.2018) noch nicht bekannt – vorher liefen die Lehrgänge an der Junkerschule in Tölz, aber vermutlich handelt es sich bei dem am 15.4.1937 begonnen Lehrgang um den 1. , der in Dachau abgehalten wurde:
15.04.1937 1.Lehrgang für Verwaltungskunde Dachau bis (01.03.1938)
Gerhard Schill, bisher 1.Mitarbeiter des Korps-Intendanten des General-Kommandos SS-Panzer-Korps, ein Truppenverwaltungsfachmann als Divisions-Intendant an. Geboren am 13.November 1912 in Reutlingen, Württemberg, war er seit dem 1.Juni 1931 der NSDAP, Mitgliedsnummer 559 840. Der SS scheint er seit dem 1.1.1934 angehört zu haben, SS-Nummer 225 404.
Er absolvierte den 2.Friedenslehrgang an der damaligen SS-Führerschule Tölz vom 15.April 1935 bis zum 1.Februar 1936. nach dem er am 20.April 1936 zum SS-Untersturmführer befördert wurde. Bereits seit dem 1.März 1936 bis zum 1.Dezember 1936 war er Mitarbeiter der Verwaltung des II. Sturmbannes der SS-Standarte "Deutschland", anschließend bis zum 1.April 1937 Mitarbeiter in der Verwaltung des SS-Oberabschnittes "Elbe", vom 15.April 1937 bis zu 1.März 1938 nahm er an dem 1.Lehrgang für Verwaltungskunde Dachau teil und war anschließend vom 18.April 1938 bis zum 31.März 1941 Leiter der Verwaltung des III. Sturmbanns der SS-Standarte "Der Führer". Vom 1.April 1941 bis zum 1.Juli 1942 war Schill 1.Mitarbeiter des Divisionsintendanten der SS-Division "Das Reich" und seit dem 5.Juli 1942 bis zu seiner Versetzung als Divisions-Intendant zur "SS-Pz.Gren.Div. (10.Div.)" am 10.Januar 1943, wie bereits erwähnt, 1.Mitarbeiter des Korps-Intendanten des General-Kommandos SS-Panzer-Korps.
06.07.1937
Der Führer der SS-Totenkopfverbände und Konzentrationslager, Berlin, den 6.Juli 1937
Befehlsblatt SS-TV/KL Nr. 6 Juni 1937
Verteiler: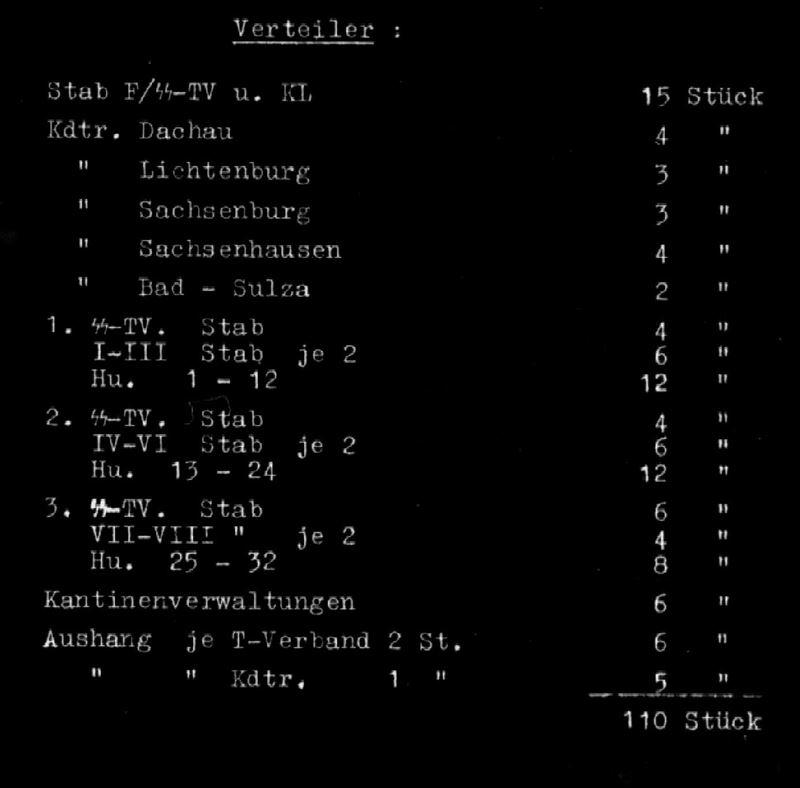 (T175 R40 Bild 0105 – 0114 ohne Zählwerk)
15.09.1937
Am 15.September 1937 wurde auf Befehl des Reichsführers-SS, SS-Personalkanzlei, die SS-Führerschule Dachau "für Führer von Sturmbannen und Standarten" errichtet. (s.a. http://forum.axishistory.com/viewtopic.php?t=117801)
The previous clothing warehouse was converted into the training building for a new SS leader school; The rooms were ready for occupancy on October 1, 1937.
It was the General SS leadership school, which only existed temporarily.
In the documents it is referred to as the "SS-Führerschule München-Dachau" or as the "SS-Führerschule Dachau of the General SS".
In order to meet the higher demands of their participants, the previous accommodation of the employees of the SS business enterprises had to be redesigned accordingly.
(Kaienburg, Economy, pp. 119 – 120, note 12)
Whether this school was the "… third of the planned schools…" mentioned in October 1934, which "… was only intended to conduct troop leadership courses for company commanders, battalion and regimental commanders…" (B. Wegner, PS, P. 89 – 90, see also note 50, AHA of October 4, 1934, appendix S.2, lecture note T.A. of October 5, 1934, p.7, T 78/427/7594) is not known because the third school "for troop leadership courses" is completely unknown. (December 19, 2007, February 3, 2008)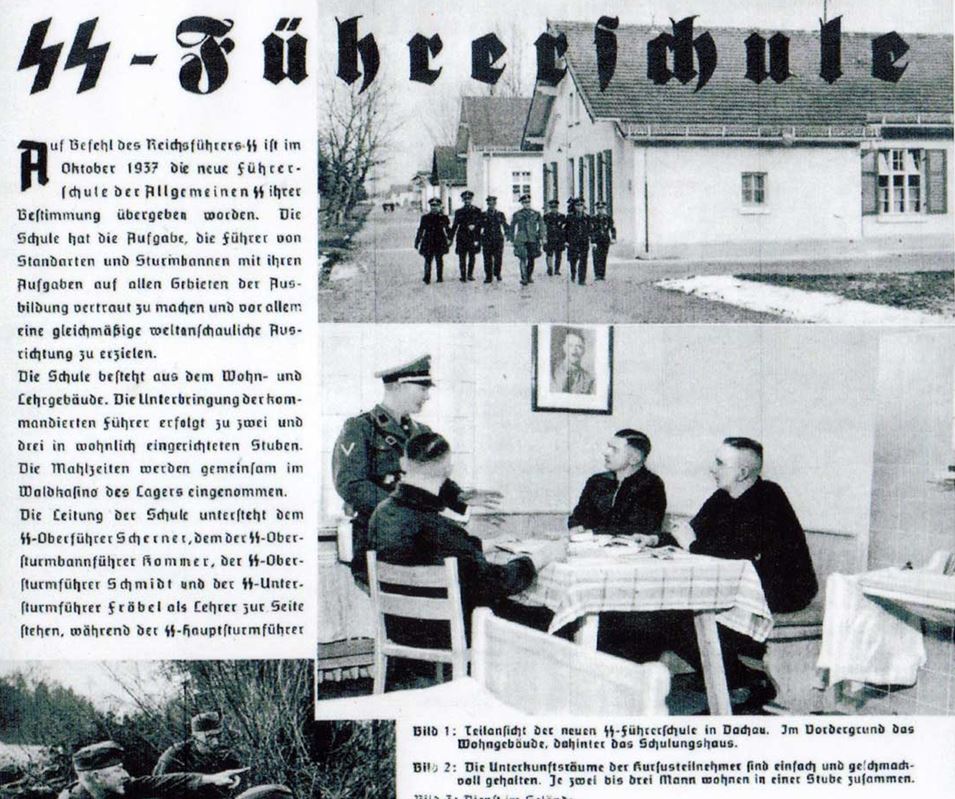 "On the orders of the Reichsführer-SS, the new leadership school of the General SS was opened in October 1937. The school's task is to familiarize the leaders of standards and Sturmbannen with their tasks in all areas of training and, above all, to achieve a consistent ideological orientation.
The school consists of a residential and teaching building. The commanded leaders are accommodated in groups of two or three in comfortably furnished rooms. Meals are eaten together in the camp's forest casino.
The management of the school is subordinate to the SS-Oberführer Scherner, who is assisted by the SS-Obersturmbannführer Kommer, the SS-Obersturmführer Schmidt and the SS-Untersturmführer Fröbel as teachers, while the SS-Hauptsturmführer…" (end of the excerpt)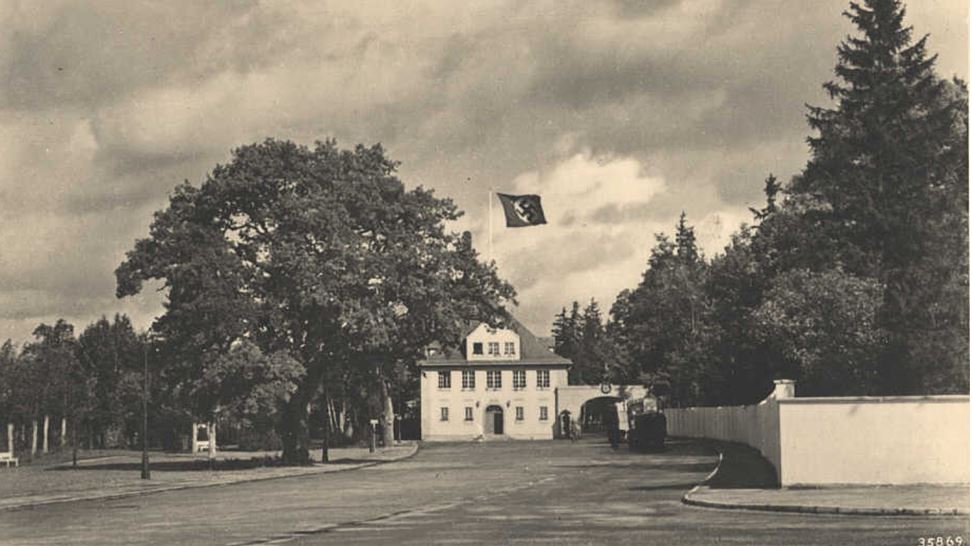 In the first half of 1938, the SS base received a new access road; In order to avoid passing through the city of Dachau, it branched off from Munich's main street in front of the town and led almost a kilometer through the open field straight to the main entrance to the SS training camp.
(Kaienburg, Economy, p. 120)
This street was then named "Lagerstraße". The previous "Lagerstraße", which led to "Reichsschatzmeister-Schwarz-Platz" in front of the main entrance of the SS training camp to the concentration camp, was then renamed "Street of the SS".
(Kaienburg, Economy, p. 120, note 14)
An existing building was converted in the spring of 1938 to set up an SS witness office.
(Kaienburg, Economy, p. 122, see also note 17: BAB NS 19-3691)
Since 1938 at the latest, there has been a weapons master training workshop in Dachau where weapons master courses were held.
During the war, the expansion to the "Dachau Weapons Technical Training Institute" took place, in which SS members received training as "Technical Leaders W".
(Kaienburg, Economy, p. 122, see among others BDC file SSO Karl Plötz)
From the personal file of Karl Ploetz, born March 25, 1892
Master craftsman course from the 6th (according to another information from the 10th) 1.38 – 31.3.38 b. d. Dachau weapons master workshop, since September 11th, 1938 SS-Ustuf., "master craftsman in the weapon master service", from October 23rd, 1939 from SS-T.Sta. 2 to the SS-T.Sta. 6, 9.11.41 east side,
Plötz had v. 1.2. – May 1, 1934 a weapons course i.d. Pole. Waffenmeisterei Papenburg, graduated, with the SS-TV since September 11, 1934 (John P. Moore, 1.2015)
From the personal files of Karl Georg Kriegel, born June 15, 1915,
Course at the (subsequently) "W.T.L. Dachau" facility from February 15th. 1938 – February 18, 1939, v. 1.6. – 8.9.39, as well
H.W.S. Berlin v. February 1, 1939 – March 1, 1940
Weapons technical course f. t. F. "W" v. December 1, 1940 – August 30, 1941
From August 27, 1941 SS-Ustuf. d.R. at the Waff.M.Sch. Munch. Dachau, later SS Westland (according to the master sheet), January 30, 1943 SS-Ostuf. d.R. (Andreas Biere, John P. Moore, 1.2015)
March 10, 1938
For the invasion of Austria on March 12, 1938, in addition to the existing SS-VT units and around 12,000 men of the public order police, three battalions/sturmbanne of the SS-Totenkopf-Verband "Oberbayern" from Dachau were placed under the army's command – as a second wave.
The Totenkopfsturmbanne were used by the VII Army Corps mainly to secure bridges and roads. (Erwin A. Schmidl, The "Anschluss" of Austria. The German invasion in March 1938, Bernhard & Graefe Verlag, Bonn, 3rd edition (1st and 2nd editions appeared in the Austrian Federal Publishing House, Vienna, under "March 38 – the German invasion of Austria", p. 139, hereinafter "Schmidl, Anschluss, p.")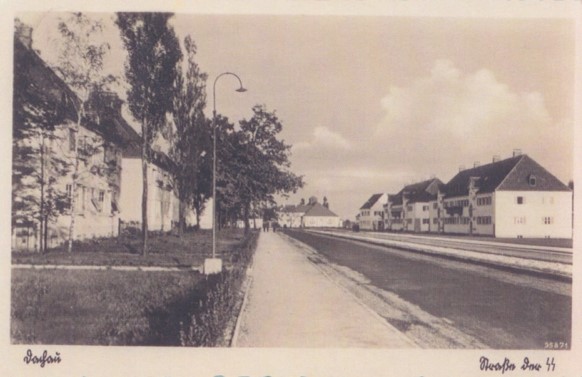 Über die Verwendung der SS-Verfügungstruppe war man beim Heer nicht allzu glücklich und ließ dies anscheinend die SS-Einheiten auch merken. Im Einsatzbericht des 1.SS-Totenkopf-Verbandes "Oberbayern" wurde Klage geführt, dass "einzelnen Stellen des Generalkommandos (VII. Armeekorps) über Gliederung und Aufgaben der SS-Totenkopf-Verbände nicht ganz im Bilde waren…", was vom Generalkommando mit einem lakonischen "Stimmt" quittiert wurde. (Schmidl, Anschluss, S. 209, s.a. S. 288 Anm. 779 Erfahrungsbericht der 1.SS-Totenkopf-Standarte "Oberbayern", Dachau, 6.Mai 1938 in BA-MA RH 53-7/ v. 127)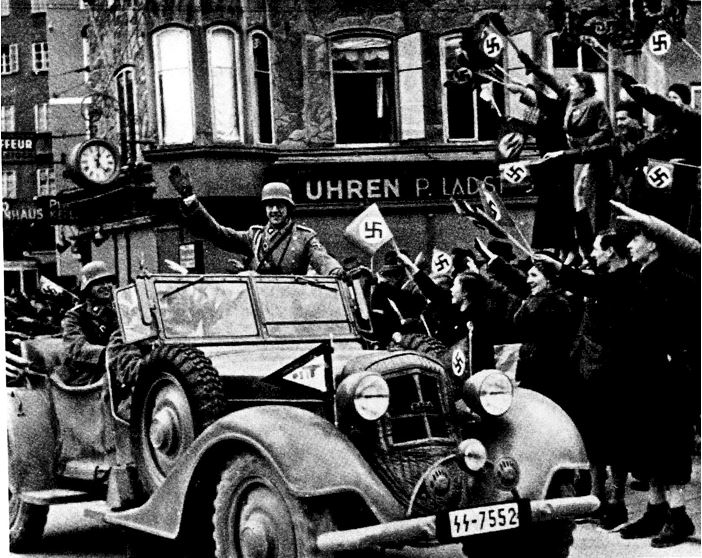 Der SS-Sturmbann "N", Übungslager Prittlbach, nahm am Einmarsch in Österreich nicht als geschlossener Verband teil, die Soldaten wurden auf verschiedene Einheiten der Standarte "Deutschland" aufgeteilt, um diese auf Kriegsstärke zu bringen.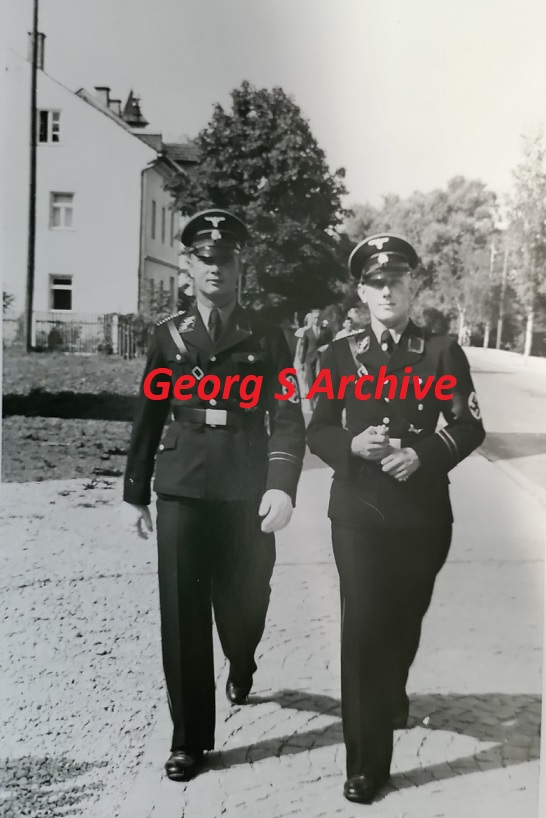 Nach der Rückkehr aus Österreich traten die abkommandierten Männer wieder zu SS-"N" zurück.
Noch im März 1938 wurde SS"N" mit Freiwilligen aus Österreich auf den vollen Mannschaftsbestand gebracht.
(Otto Weidinger, Division Das Reich, Band I, Munin, 1967, S. 90 – 91)

End of part 3
Author – Roland Pfeiffer – Some images Georg Schwab