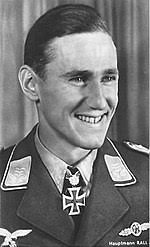 Günther Rall was born in Gaggenau, the German Empire, in March 1918. Rall grew up in the Weimar Republic. In 1933 the Nazi Party seized power and Rall, deciding upon a military career, joined the Army in 1936 to train as an infantry soldier. Rall transferred to the Luftwaffe soon after and he qualified as a fighter pilot in 1938.
In September 1939 World War II began with the German invasion of Poland. Rall was assigned to Jagdgeschwader 52 (JG 52—52nd Fighter Wing) and flew combat patrols in the Phoney War period on the Western Front. Rall flew combat missions in the Battle of France and Battle of Britain, claiming one enemy aircraft destroyed in May 1940. Rall's wing sustained heavy casualties and the then-22 year old was appointed to Staffelkapitän (squadron leader). He then served in the Balkans Campaign in April and May 1941 without success.
In June 1941, JG 52 moved to the Eastern Front, where it remained from Operation Barbarossa until the end of the war. Rall claimed his first successes in the air defense of Romania. In November 1941, he was shot down, wounded and invalidated from flying for a year. At this time Rall had claimed 36 aerial victories. His achievements earned him the German Cross in Gold in December 1941.
Rall returned in August 1942 and was awarded the Knight's Cross of the Iron Cross on 3 September 1942 for 65 enemy aircraft shot down. By 22 October Rall had claimed 100 and received the Knight's Cross with Oak Leaves. He reached 200 in late August 1943. On 12 September 1943 he was awarded the Knight's Cross of the Iron Cross with Oak Leaves and Swords, the second highest military award in Nazi Germany at the time of the presentation. By the end of 1943 Rall had achieved over 250, the second flier to do so after Walter Nowotny did in October 1943.
In April 1944 Rall left JG 52 and the Eastern Front. He was given command of II. Gruppe (2nd group) of Jagdgeschwader 11 and served in the Defense of the Reich where he was wounded for a third time. In November 1944 Rall was appointed as an instructor and flew captured Allied fighter aircraft in order to prepare instruction notes on their performance to German fighter pilots. Rall ended the war with an unsuccessful stint commanding Jagdgeschwader 300 (JG 300—300th Fighter Wing) near Salzburg, Austria, where he surrendered in May 1945.
During World War II Rall was credited with the destruction of 275 enemy aircraft in 621 combat missions. He was shot down five times and wounded on three occasions.[2] Rall claimed all of his victories in a Messerschmitt Bf 109, though he also flew the Focke-Wulf Fw 190 operationally. All but three of his claims were against Soviet opposition.
Rall joined the West German Air Force in 1956, served as Inspector of the Air Force from 1971 to 1974, and as the German representative to the NATO Military Committee until 1975. After his retirement Rall became a consultant. Among his post-war achievements was the presentation of the Order of Merit of the Federal Republic of Germany. It was awarded to him for his post-1945 service.